Stranger Things is arguably the most popular television program on the planet at the moment. House of the Dragon or any Marvel Studios Disney Plus show may generate nearly as much buzz, but the Netflix phenomenon proved beyond a shadow of a doubt in 2018 that it owns the television landscape.
Stranger Things returned to screens with a two-part fourth season, with both episodes generating millions of viewing minutes within their first weeks and months, making it Netflix's most popular show ever. But let's be honest, we already knew the show deserved the award.
The arrival of Season 4 after a three-year break left fans wondering if the show could recover. Well, spoiler alert: It actually occurred! And fans couldn't get enough as Eleven and her friends waged war against Vecna.
But don't expect Netflix, the Duffer Brothers, or anyone else on the creative team to rush out the fifth and final season due to the show's success. True, season 5 is in the works and on the horizon, but don't expect it this month. Stranger Things Season 5 is not included in Netflix's November lineup, which has been announced.
The Predicted Release Date for Stranger Things Season 5
Netflix renewed Stranger Things for a fifth season shortly before the premiere of season 4, which revealed that it would be the final season. As the Duffer Brothers had envisioned the show as a five-season story, it had been rumored that the show would end after season 5, and now it has been confirmed that this will be the case.
With this in mind, it is best to prepare for a delay. The final season of the show will require a great deal of planning, as we're not only dealing with the final confrontation between Hawkins and the Upside Down, but also with the conclusion of each of these characters' stories.
But never fear! We won't have to wait another three years for Stranger Things season 5. The Duffer Brothers confirmed this in an interview with Variety, stating that "the gap should be quite a bit shorter this time" because they already have a rough outline of the final season and won't be taking any additional production breaks (like the one that shut production on season 4 down at the beginning of the pandemic).
The most likely release window for Stranger Things seasons 5 would be 2024, given the aforementioned information. A 2023 release would have been possible if production had already begun, but it has not, and given the likely massive scope of the final season, it will take a while to film (as all seasons do).
As always, it is best to wait for an official announcement from Netflix as that will provide greater clarity (and it will arrive at the appropriate time), but rest assured that all parties involved will ensure that the wait for season 5 will be worthwhile.
Who Will Star in Stranger Things Season 4?
The following actors are integral to the fourth season of Stranger Things.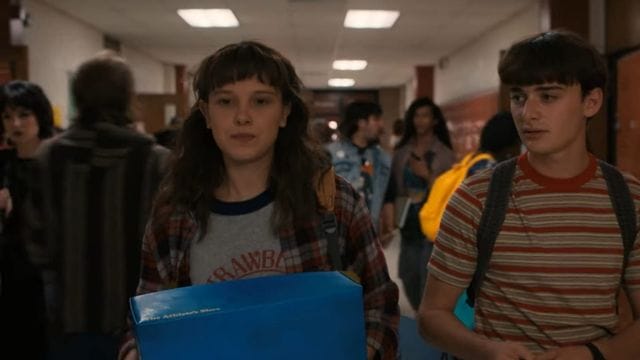 Matthew Modine as Dr. Martin Brenner
Paul Reiser as Dr. Sam Owens
Brett Gelman as Murray Bauman
Priah Ferguson as Erica Sinclair
Joe Keery as Steve Harrington
Maya Hawke as Robin Buckley
Natalia Dyer as Nancy Wheeler
Charlie Heaton as Jonathan Byers
Gaten Matarazzo as Dustin Henderson
Caleb McLaughlin as Lucas Sinclair
Millie Bobby Brown as Eleven/Jane Hopper
Finn Wolfhard as Mike Wheeler
Winona Ryder as Joyce Byers
David Harbour as Jim Hopper
The Plot of Stranger Things Season 4
The official Netflix plot summary reads as follows: "Six months have passed since the Battle of Starcourt, which brought destruction and fear to Hawkins. Our group of friends is separated for the first time as a result of the aftermath, and navigating the complexities of high school has not made matters any easier. At this time of greatest vulnerability, a new and horrifying supernatural threat emerges, posing a gruesome mystery that, if solved, could put an end to the horrors of the Upside Down."
Due to the numerous delays in production, there has been more time than usual to extract plot details from the Stranger Things cast.
Fear Street star Sadie Sink, who portrays Max Mayfield on the hit fantasy series on Netflix, recently revealed that the upcoming episodes will be a far cry from the relatively comedic third installment.
In an interview with PA, she promised a "really, really dark season," which will cause some fans to worry about the survival of their favorite characters.
She added to Collider, "The scale of the show grows exponentially every year." "It's been absolutely incredible to see where they're taking the plot. This year is truly remarkable. And how the stakes are significantly higher. They have reached their highest level ever."
Natalia Dyer has put a lot of effort into Season 4, stating to The Independent: "Sincerely, the scripts are excellent. Every time a season ends, we all wonder, "Where will this go?" Where could this possibly belong? Then we receive the scripts for the following season, and we're like, "Oh my god, wow!""
RELATED:
She went on: "It will be extremely large. It's going to be enormous!"
Matarazzo also spoke with Entertainment Tonight about a change in tone and how aging actors have helped to inspire the writing.
Regarding the season's tone, he stated, "I think the creators [Matt and Ross Duffer] do that on purpose because I believe they want their show to mature alongside their children." "As we age as individuals, our characters must likewise mature. This issue confronts them, but they embrace it and employ it to their advantage. In addition, they are not alarmed when we grow taller or when our voices change in any way."
Stranger Things Season 4 Theories – What Could Happen Next Season?
We concluded the third season in an intense and emotional manner. After Hopper's death, Joyce took Jonathan and Will and left Hawkins and Eleven in their moving van, although we now know that Hawkins is alive.
Will Eleven's Powers Return?
We can anticipate great things for Eleven now that she is powerless. We anticipate their return, most likely at the ideal time.
We are somewhat alarmed by some unsettling fan theories about her abilities. The Monster Bite Eleven received may have given the Mind Flayer access to her mind, according to Reddit user weedmonkey666.
"If Eleven is infected, the Mind Flayer could control her like it did with Billy, Will, and the flayed, to ultimately destroy her or use her to gain more control/spread," the author writes.
While there is some supporting evidence, let's hope that's not the case. In the final scene of season three, Eleven's head was visible to have a shadow. This, coupled with the fact that the Gate only appeared to have been closed, leaves us unsure of what it all means. Additionally, a Demogorgon is still being held captive by the Soviets.