Victor James Osimhen is a Nigerian professional footballer who plays for Serie A club Napoli and the Nigeria national team. He is listed as one of the best strikers in the world, known for his finishing, strength, and athleticism.
In 2017, Victor started his senior career in Germany at VFL Wolfsburg. In the season 2021-22, Osimhen won the Serie Best Young Player award.
At the 2015 FIFA U-17 world cup, he won the golden boot award which Nigeria won. Presently, he is the ninth all-time highest goal scorer of the  Nigeria national team.
In this article, you are going to read about his professional life, early life, and net worth as well. To know interesting facts about a footballer, keep reading an article till the end.
Who is Victor Osimhen?
Victor is a Nigerian footballer who was born on December 29, 1998, in Lagos, Nigeria to Mr. and Mrs. Patrick Osimhen. He developed in the Olusosun community of Lagos. He has six siblings except him. On May 24th, 2020, he lost his father due to sickness who was 80 years old.
Before beginning his football career, Victor earned his SSCE and first school leaving certificates in Lagos. At his growing age, his idol of football was Didier Drogba, who is an Ivorian professional footballer who played as a striker.
When Victor Started His Career as a Footballer?
Victor Osimhen had a successful trial with the Ultimate Strikers Football Academy and there he began his club career. Soon after, he received an invitation from his Nigerian U-17 team's coach, Emmanuel Amuneke, to participate.
The team's ability to qualify for the U-17 FIFA World Cup, which was held in Chile, was greatly aided by Victor Osimhen.
Victor Osimhen had a strong start to the competition thanks to his two outstanding goals in his debut, which captured the hearts of millions of people across the world, including several European scouts.
Victor committed to a pre-contract with VFL Wolfsburg, but he joined it on January 5,2017. He signed a contract for three and half years with the club.
He made his Bundesliga debut for Wolfsburg on May 13 when, after being sidelined by an injury upon his arrival, he entered the game as a substitute in the 59th minute of a 1-1 draw against Borussia Mönchengladbach.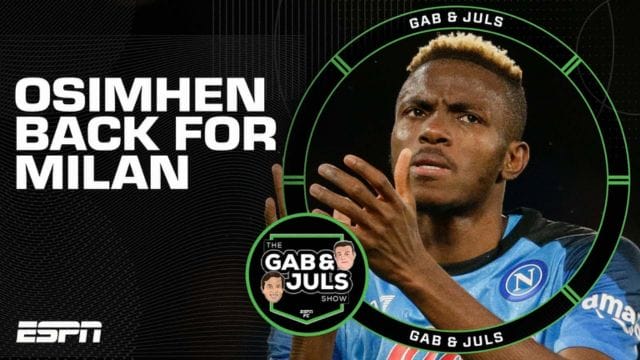 On the final matchday of the 2016–17 season, Osimhen also entered the game the following week in a crucial relegation match against Hamburger SV.
Osimhen participated in 5 games during the first half of the 2017–18 season and was a member of 12 of the 17 matchday squads.
 On January 28, 2018, against Hannover, he made his full Bundesliga debut by playing the entire 90 minutes in a 1-0 victory. Osimhen was unable to participate in the relegation playoff because of an injury for Wolfsburg.
He also made one DFB Pokal appearance with Wolfsburg, taking Josuha Guilavogui's place for the final ten minutes of their 1-0 loss to Schalke in the quarterfinal. Osimhen, who has 12 Bundesliga matches to his credit, underwent shoulder surgery on May 2.
On August 22, 2018, Osimhen joined Belgian club Charleroi on a long-season deal, having failed to score in any of his 16 appearances with Wolfsburg. After that, in 36 games, he scored 20 goals.
Osimhein signed for Lille in July 2019. He was named the Ligue 1 Player of the Month for September 2019. On June 2, 2020, he secured Lille's Player of the Season award and received the highest number of votes from fans.
Osimhen was signed by Serie A club Napoli on July 31, 2020, for a club-record sum of €70 million, which could go to €80 million with add-ons. This makes him the most expensive African transfer to date.
Osimhen suffered an injury on November 13 while playing for Nigeria during a break in international action in an Africa Cup of Nations qualifying match.
After that, it was determined that Osimhen had a shoulder injury that would keep him off the pitch for two months. Osimhen got permission from his club to spend time in his native nation where he was able to celebrate his birthday while he was recovering from the injury.
Osimhen tested positive for COVID-19 after returning to Naples, hence it is thought that he caught the virus during his birthday celebrations.
Osimhen wasn't able to play again until 29 January 2021, when he came on as a substitute for about 20 minutes of Napoli's Coppa Italia victory over Spezia.
Osimhen scored his first Champions League goal with Napoli in a win over Ajax on October 12, 2022. He broke Simy's record of 31 goals in the Italian Serie A by scoring one goal and assisting another to help Napoli defeat Atalanta on November 11.
With 32 goals overall, he now holds the record for most goals scored by a Nigerian in the league.
How Much Victor Earned on a Monthly Basis?
Victor Osimhen is one of the Nigerian footballers with the most Instagram followers and the second-highest-paid player in the world as of March 2023.
The striker was recently awarded the Serie A Most Valuable Young Player title after successfully establishing himself as one of the most lethal scorers in the Italian league. Victor Osimhen receives a salary of £112,000 every week, which brings in almost £5,824,000 annually.
Osimhen's current agreement with Napoli expires in 2025.
What Is The Net Worth of Victor Osimhen in 2023?
The Napoli player, who has played top-flight European football for more than ten years, will be among the wealthiest Super Eagles players in 2023. According to Capology, Osimhen is the second highest-paid player at Napoli.
Victor Osimhen is thought to be worth $2 million, and according to Transfermrkt, the 24-year-old Super Eagles striker has a market value of €100 million as of April 2023.
The majority of Osimhen's income comes from his involvement in football and endorsement deals.
You may also like to read this: Exploring the Impressive Net Worth of Janet Jackson
How Many Cars Does Victor Have?
Victor has been noticed with several high-end vehicles, even though he doesn't disclose any of them on his social media pages. One among them is the pricey Mercedes G-Wagen that he purchased for N65,000,000. In 2021, a car was handed over to him.
Conclusion
To conclude, Victor Osimhen is a renowned footballer in Nigeria. And he is earning a handsome salary which is disclosed in an article.
I hope you may find the relevant information in this article. If you want to share any questions or feedback with us, then you are free to share it via the comment section. Thanks for visiting us.