In the book "Women at War," the main character, Suzanne, assumes the name of a deceased person in order to avoid being found by a detective. When Lucien Charrier, the husband of the deceased person, turns up looking for his wife, things get more problematic for her.
Jeanne Charrier, who was assisting Suzanne in evading Detective Compoing and getting to safety in Switzerland, dies because Suzanne is unable to reach her in time to save her. Suzanne assumes Jeanne's name and begins working as a nurse at the convent in Saint-Paulin in order to stay hidden from Compoing. Compoing is still on the hunt for Suzanne.
Although Mother Agnes discovers her secret, she does not tell anyone about it. She makes a note of how caring Suzanne is, and she says that during this time of war, she needs individuals like Suzanne.
Suzanne puts in a lot of effort to save people, which is something she enjoys doing, but she soon finds herself in a difficult situation when a man named Lucien Charrier arrives on his plane looking for his wife, Jeanne Charrier. Suzanne is able to assist Lucien Charrier in his search for Jeanne Charrier.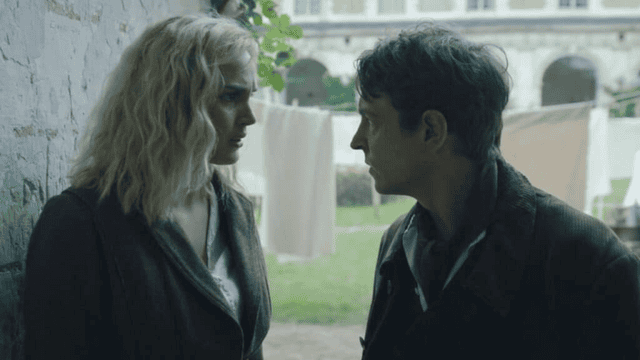 Who is Lucien Charrier?
Suzanne, Marguerite, Caroline, and Agnes are due to receive awards from President Poincare for their achievements off the battlefield when he is in Saint-Paulin. Lucien views this as an opportunity to engage in conversation with the president and gain insight into the new ambitions for France.
When Suzanne decides not to attend this event because of the presence of the media, which would lead Detective Compoing to find her, Lucien makes the decision to explain the real reason he is working against the interests of his own nation.
He presents the photograph to her, which is of his daughter Claudine. After that, he admits that he and Jeanne had formerly been agents for the French intelligence service. They were provided with a fictitious identity as a married couple. Someone was able to uncover Lucien's cover story and provide that information on to the Germans.
The Germans broke into his home, murdered his wife, and abducted his daughter before fleeing the scene. If Lucien does not provide them with intelligence on the upcoming offensive, he will never get another chance to see his daughter.
Read more:-
Lucien's Death, What Happened to Him?
Lucien fails to get close to President Poincare. As his situation worsens, he resorts to abusing Suzanne in order to complete his work. Eventually, General Duvernet extends a personal invitation to Lucien to join him in the war effort because he need the services of an aviator to carry out reconnaissance missions.
Lucien gives in to his request and offers to fly over the field for him. He is integrated into their subsequent attack strategy and gains knowledge regarding the activities of the French troops. Lucien manages to get his hands on those plans, and he brings Suzanne along with him when he goes to talk to the Germans.
Before the meeting, Lucien admits to Suzanne that he is not going to provide any information with the Germans. He is not a betrayer of the trust. He is only going to make sure that his daughter, Claudine, returns unscathed and is able to ride in the vehicle with Suzanne after he is through.
After his daughter has joined Suzanne in the truck, Lucien requests that she speed away from the area as much as she can. After ensuring that his daughter is safe, Lucien takes the leader of the Germans and pulls out a grenade instead of a French plan as they approach. After this, the Germans are defeated.
Claudine gets in the car with Suzanne, and the two of them leave. Lucien throws the grenade once they are some distance away from him. He takes his own life in the same manner as those German soldiers.
Claudine and Suzanne make their way back to the convent together. While Suzanne goes back to her job, Mother Agnes watches over Claudine in the meanwhile.