In the latest trailer for Below Deck season 10, Captain Lee, the Stud of Sea, exclaims, "New location, new boat, new crew, new everything." It's time to set sail for the Caribbean with Bravo's most popular yachting franchise.
At BravoCon 2022, a sneak peek at the new season got fans excited. The 197-foot motor yacht St. David, the largest boat to be featured on the show, is being driven once more by Captain Lee Rosbach. The trailer implies that there will be choppy waters ahead, despite the fact that he will have two returning crew members and a lot of new faces.
The Release Date for Season 10 of Below Deck
New episodes of Below Deck season 10 will debut on Peacock the day after they air on Bravo on November 22 at 8 p.m. ET/PT.

For UK audiences, no release date has been set as of yet. However, with a membership, prior seasons are accessible on Hayu.
The Cast of Below Deck Season 10
Two recognizable characters from the previous season, chef Rachel Hargrove and chief stew Fraser Olender, will travel with Captain Lee to the Caribbean. Everyone else will be a new member of the team, and growing pains are a given to newcomers. Additionally, if somebody disrespects the boat, Captain Lee always has plane tickets to send them home.
We'll be keeping an eye on Ross McHarg, the new bosun, to see how capable he is. New bosuns have historically faced a trial by fire. Being a new bosun on any boat can be challenging, but on a megayacht, it can be especially challenging with a new crew of deckhands.
Olender's position as chief stew will thankfully give Captain Lee some stability in the interior, and Hargrove will take care of business in the galley.
The entire cast for Season 10 of Below Deck is shown here:
Deckhand Tony Duarte
Deckhand Katie Glaser
Deckhand Ben Willoughby
Stew Alissa Humber
Deck/Stew Camille Lamb
Chief Stew Fraser Olender
Bosun Ross McHarg
Chef Rachel Hargrove
The Plot of Below Deck Season 10
The lives of the people who live out their fantasies on mega yachts are chronicled in Below Deck. The diligent crew members must balance their other duties on the ship with navigating the needs (and demands) of the passengers. It can be particularly difficult if you share a home with your coworkers and have nowhere to go for some privacy.
Season 10 of Below Deck Has a Trailer?
The above-sized Below Deck season 2 trailer can be seen:
View this post on Instagram
How to Watch Season 10 of Below Deck
The tenth season of Below Deck will premiere on Bravo on November 21. The following day, new episodes will air on Peacock.
UK viewers can watch previous seasons of the franchise on Hayu(opens in new tab), and we'll update this page with the release date for season 10 once we know it.
Who is Camille Lamb From Below Deck?
Camille Lamb, an American Idol contestant, will work as a deckhand and stew on Below Deck. In 2021, she participated in American Idol. She has recently joined the superyacht St. David's crew.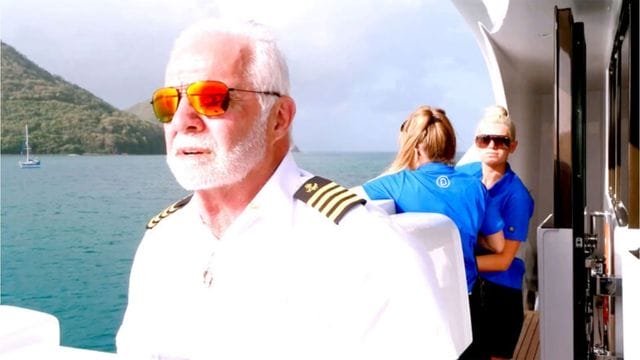 Captain Lee Rosbach will once again be in charge of directing St. David. Even the captain of the motor yacht and chief stew Fraser Olender is making a trip back to the Caribbean.
New staff members Stews Hayley De Sola Pinto and Alissa Humber, Deckhands Tony Duarte, Katie Glaser, Ben Willoughby, and Bosun Ross McHarg will all be working with Camille in the upcoming season.
RELATED: 
Stew Camille debuted on season 19 of American Idol in 2021 before making an appearance on Below Deck. At the San Diego audition for the show, the singer and composer even won a Golden Ticket. She was asked to perform in a duet with Althea Grace in Hollywood.
Camille performed Feel Like Makin' Love by Bad Company after making it to the Showstopper Round (Top 64), but she was unable to place in the Top 24.
The Mississippi native felt "lost" after being eliminated, so she "returned to her roots on the water."
Camille describes herself as a "5th Gen Seafarer" in her Instagram bio. She is descended from merchant mariners. Since she was nine years old, she has been sailing. She started her yachting career in the Virgin Islands with only a background in sailing and later worked in Miami and Los Angeles.