Every year brings new action movies, and some are special. In 2022, a year with many great action films, that's still true. The genres include superhero movies, period pieces, kid-friendly adventures, and mind-blowingly original stories. The year's new releases have an action for every taste.
These action movies take advantage of the return of big-screen spectacle and streaming's experimental landscape to give audiences jaw-dropping scenes and nail-biting thrills. Luckily, there were plenty of new action movies that made us gasp, grip our seats, or stare at the screen in disbelief. 2022's best action films.
Ambulance
"Ambulance," Michael Bay's first theatrical release since the conclusion of the "Transformers" series, is a triumphant return to the big screen for the action maestro. The film follows Danny and Will Sharp, played by Jake Gyllenhaal and Yahya Abdul-Mateen II, as they rob a bank and escape in an ambulance. Although it is a remake of a Danish film from 2005 with the same name, nothing can match the sheer spectacle of "Bayhem" on display in Bay's version.
The first fifteen or so minutes of the film are devoted to introducing us to the main characters, which, in addition to the Sharp brothers, also include EMT Cam (Eiza González) and police officer Zach (Jackson White), who are trapped in the runaway ambulance with the Sharps. However, after that brief period of introduction, it's all action.
"We do not stop," the brothers' catchphrase, appears to be the same philosophy as the film. Whether it's the helicopter-ambulance race on the river or the car chases through downtown Los Angeles and onto highways, "Ambulance" delivers nonstop adrenaline in Bay's recognizable hyperactive style.
RELATED: Riverdale Season 7: It Won't Be Airing on the CW in November 2022, Right?
The emphatic focus on action is what makes "Ambulance" such a fantastic action film—one of Bay's best, in fact. It allows us to learn more about its characters by observing the choices they make in the face of extreme adversity rather than by learning about their past. The action in the film serves as the only plot, so there is no need for the plot to be explained; all we need to know to enjoy the film is that police are pursuing an ambulance. Since Bay is such a singularly talented action director, that should be enough.
Dragon Ball Super: Super Hero
"Dragon Ball Super: Super Hero" is the first "Dragon Ball" film or TV show to heavily use CG. It was a big risk that didn't please all series fans (via ComicBook.com). It paid off—literally. "Dragon Ball Super: Super Hero" topped the U.S. box office on its opening weekend.

The movie gives fan-favorite Piccolo (Toshio Furukawa in the Japanese version, Christopher Sabat in the English dub) a chance to shine, so we think it deserves success. Piccolo discovers that the revived Red Ribbon Army wants to rule the world with androids and a stronger Cell.
Most "Dragon Ball" movies end with characters powering up for Earth-shattering fights. Instead of Goku (Masako Nozawa, Sean Schemmel), Piccolo takes on the threat and forms a team. Because of a new character, the final fight is one of the series' most exciting.
The Northman
"The Northman," directed by Robert Eggers, is based on the Danish legend of Prince Amleth by mediaeval Danish historian and author Saxo Grammaticus (which also inspired Shakespeare's "Hamlet") and follows Amleth (Alexander Skarsgård) on a quest for revenge after his uncle murders his father.
Eggers' filmmaking skills extend beyond small-scale dread. Amleth and a group of Northern berserkers raid a village in "the land of the Rus" in an incredible sequence. As Amleth climbs over a defensive wall, leaps to attack a horseback guard, and defeats several ground combatants, tension builds. But that's just one of many breathtaking—and brutal—scenes in a movie that ends with a volcano fight.
Prey
"Prey," a 2022 film in the "Predator" franchise, is set in 1719. Naru (Amber Midthunder), a young Comanche woman, wants to hunt with her brother and other young men in the film. Naru is a good hunter, but she has trouble finishing her prey.
When a Predator arrives on the plains and kills wildlife, French colonisers, and Naru's tribe's hunters, she must plan an attack to stop it. "Prey" tells a simple but moving story with fantastic sci-fi action sequences that combine the iconic Predator technology with the weaponry and skillset of a tenacious Indigenous hero. We called it "the best 'Predator' film since the original."
Black Adam
"Black Adam" broke Dwayne "The Rock" Johnson's box office record and had one of the largest disparities between audience and critic ratings on Rotten Tomatoes (the gap has since closed), so critics' opinions didn't matter. "Black Adam" is a good superhero movie, despite critics' complaints about the story and action.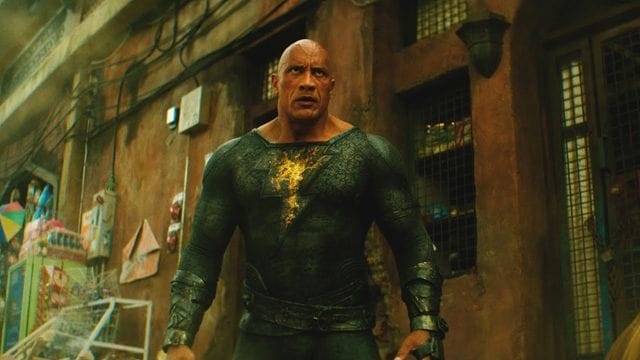 The film must introduce Johnson and the Justice Society members sent to stop Adam. Fortunately, it's surprisingly smooth (especially compared to the awkward introductions of other metahumans in "Batman v Superman: Dawn of Justice"), and their fights are some of the DC Extended Universe's most exciting.
RELATED: Bad Sisters Season 2 Release Date: Cast in Detail!
Jaume Collet-Serra brings his action chops from his mid-budget Liam Neeson films to this big-budget superhero spectacle. Collet-Serra slows down the movie to highlight Doctor Fate's (Pierce Brosnan) magic and Cyclone's colourful storms (Quintessa Swindell). Classic punch-ups and explosions abound. "Black Adam" is one of the best DCEU movies and one of the best action movies of 2022 because of its unique action.
Black Panther: Wakanda Forever
"Black Panther: Wakanda Forever" uses its 161 minutes to deal with Chadwick Boseman's death and tell the story of Wakanda's conflict with King Namor (Tenoch Huerta) and his subaquatic people while mourning King T'Challa.
The movie's introduction of Namor and Talokan (a comics-inspired Atlantis) creates an international political thriller that's almost more epic than anything else in the Marvel Cinematic Universe (including Thanos). In "Black Panther: Wakanda Forever," Namor and his people use water weapons to attack Wakanda and defend themselves from surface nations.
RELATED: The Curse of Oak Island Season 10 Will Reveal New Knights Templar-oak Island Connections!
Namor's ability to fly (he has wings on his ankles) and super strength to single-handedly fight planes and helicopters make for the movie's best scenes. Namor slices, smashes, and even throws huge machines in the movie's many battle scenes.
Everything Everywhere All at Once
"Everything Everywhere All At Once" may be the 2022 breakout hit. The MCU's Russo brothers produced the film, which starred Michelle Yeoh and Jamie Lee Curtis. It's a strange movie that mixes the MCU's multiverse obsession with a family story.
Yeoh plays Evelyn, a stressed-out laundromat owner who fights a multiverse-spanning villain. "Everything Everywhere All At Once" balances Evelyn's relationships with her husband Waymond (Ke Huy Quan, returning to acting after 20 years) and daughter Joy (Stephanie Hsu) with the multiverse's survival.
Laugh-out-loud jokes and memorable fight scenes ensue. Its best scenes include an alternate-timeline Waymond beating up security guards with a fanny pack. "Everything Everywhere All At Once" is a unique film that shows we can maintain real human relationships even in mind-bending sci-fi stories about multiversal destruction.