The Serpent Queen will be back for a second season, which means that Catherine de Medici will also be back.
Starz made the announcement that the show would be renewed for a second season just before the conclusion of the first season. Kathryn Busby, president of original programming for Starz, was quoted as saying in a statement that "The Serpent Queen is distinctly modern, darkly comedic, and completely unexpected." "Samantha Morton's brilliant portrayal of this ruthless, charming, and savvy queen serves as the central pillar of the entire production.
The story of Catherine de Medici is the perfect complement to our female-forward slate, and Samantha Morton's performance is outstanding. In season two, which promises to be even more provocative and sublime, we will finally get a better look at her incredible life and reign, and we couldn't be more excited about it."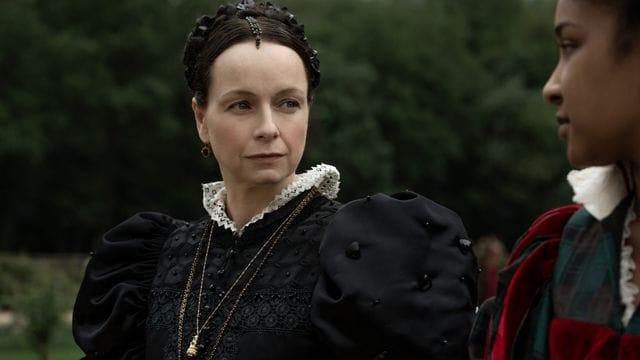 The following is a summary of what we know currently about chapter two:
It has been confirmed that Samantha Morton will reprise her role as Catherine de Medici.
Morton said in an interview with Town & Country, "I feel so kind of in awe of Catherine, and it is such an honor to play her." "As well as the enormous responsibility of providing her with authenticity to the best of my ability." When you bring the drama into the present, you give these characters the opportunity to share their backstories with the audience.
RELATED: Somos Season 2 Netflix: Updates on the Release Date, Cast, and Synopsis, as Well as Other News!
If you are going to break the fourth wall, you need to make sure that you are not just doing it for the effect of breaking the wall. Catherine truly believes that the audience can be a confidant, as evidenced by the fact that she asks them, "Can you believe this is real?" There are some streaming channels that produce chocolate-box costume dramas, but you never get the sense that you are actually a part of the show because it is so obviously staged and acted.
Everything might appear to be in perfect condition, but you don't experience anything at all. That is the conundrum: the truth of the story must come before anything else.
There is a good chance that other principal actors, such as Amrita Acharia, Enzo Cilenti, Sennia Nanua, Kiruna Stamell, and Naomi Battrick, will also be back for the next season.
What Exactly Happens in the Serpent Queen?
The story of Catherine de' Medici, who at the age of fourteen was expected to bring a fortune in dowry and produce heirs, is told throughout the series. Catherine marries into the French Valois court and is expected to produce heirs.
RELATED: The Release Date for Vinland Saga Season 2 on Netflix Around the World is Set!
Through a lifetime of shrewd political manoeuvring, she was able to rule France as queen for a total of thirty years despite facing many obstacles.
Where Can I Find the Serpent Queen to Watch It Online?
Starz makes its original series The Serpent Queen accessible for streaming online in addition to its traditional cable broadcasting. On the other hand, viewers in the United States and the United Kingdom can access the episode digitally by downloading the STARZ Play app and then using that app in conjunction with Amazon Prime. A similar feature is also available on Hulu (USA only).
Date of Release for the Sixth Episode of "the Serpent Queen"
On Sunday, October 16, at approximately 9:00 p.m. (Eastern Time) / 8:00 a.m., The Serpent Queen Episode 6 has been made available (GMT).
You can anticipate episodes to be made available online shortly after they have been broadcast, with Amazon Prime Video in particular releasing episodes pretty quickly after they have been broadcast. However, you should be patient and give the content providers some time to upload those episodes to the website.
RELATED: Tell Me Lies Season 2: All You Need to Know About Potential Release Date, Plot and Cast!
It is anticipated that Episode 6 will run for approximately half an hour. You should also anticipate the availability of subtitles upon release (especially those watching from Prime Video)