In Canada and the United States, Netflix will premiere "The Sinner's" fourth and final season in October 2022. Harry Ambrose's Bill Pullman makes a comeback to look into a fresh case. For Ambrose and his supporters, the brand-new case will be the last.
He receives the case while vacationing on a tiny island with Sonya (Jessica Hecht) when the tragic death of a prominent figure's daughter occurs. Cindy Cheung (Stephanie Lam), Frances Fisher (Meg Muldoon), Michael Mosley (Colin Muldoon), and Alice Kremelberg are new additions for the fourth season (Percy Muldoon). The streaming rights to "The Sinner" are owned by Netflix globally, including in the UK, USA, Canada, Australia, and all English-speaking countries.
After running for a year, the show is now available on Netflix. The third season, for instance, debuted in February 2020 and was available on Netflix in February 2021. The show's airing schedules for seasons 1 and 2 were comparable. The same broadcast schedule is available on Netflix Canada.
According to previous releases, Season 4 should be available in the United States and Canada on October 13, 2022. On the Netflix page, you can see a notice for Season 4. After wrapping up outside of Canada and the United States for several months, the fresh seasons of the program were made available.
A Future Season?
The producers declared that "The Sinner" would not be back for Season 5 during Season 4. The network made a comment claiming that Ambrose's story finds a nice conclusion in Season 4.
FAQs
Q1. Will "The Sinner" have a fifth season?
A1. The producers declared that "The Sinner" would not be back for Season 5 during Season 4. The network made a comment claiming that Ambrose's story finds a nice conclusion in Season 4.
2. How long does it take for a new season of "The Sinner" to appear on Netflix after it airs?
A2. Netflix continues to broadcast the program after a year. For instance, the third season debuted and was made available in February 2020.
Recently Retired Harry is Drawn Back in by a Spooky New Case!
Harry Ambrose (Bill Pullman) was dealing with the fallout from the most gruesome case of his 40-year career when we last saw him. The smart, always-busy detective of The Sinner had been beaten, shot, and buried alive. The worst of it, though, wasn't that. After murdering psychopathic antagonist Jamie Burns in the previous season, Harry was consumed with guilt and on the verge of going insane.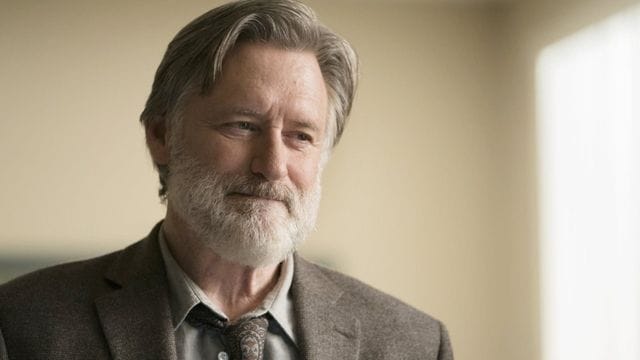 At the start of season 4, though, things are improving. Harry and Sonya's relationship, which is the only positive outcome of the Burns case, seems to be progressing nicely as they are currently traveling by ferry to a charming seaside village in Maine. Harry, who recently retired, yet seems a little distant and worried despite the assurance of some much-needed R&R and lobster rolls.
They meet Greta, a Sonya friend who describes herself as a "broke, lesbian painter," when they get to Hanover Island, and she arranges for them to stay in a cute cottage near the water. Another indication that something is wrong in Harry's thinking is when Sonya (Jessica Hecht) proposes that the sound of the waves will help Harry with his insomnia.
At lunch, Greta queries Ambrose and Sonya about Harry's retirement and how they are faring following the Burns incident. Harry gets up and goes for a walk, leaving his hardly-touched lobster roll behind. He quickly meets Percy Muldoon, a pleasant "female fisherman" who works for her family's business. She makes a cryptic allusion to her relationship with nature and states that the water is "in a mood today."
That evening, it becomes known that Harry has been using antidepressants. However, he purposefully and covertly left the drugs behind, which worries Sonya. He is walking because of his insomnia and is having flashbacks to the night he shot Jamie when he hears someone yell "Give me some space. Hold it!" Percy's here. When he pursues her into the woods, he hears agitated, maybe painful cries. He sees Percy standing at the edge of a precipice and slyly looking over her shoulder. She gently moves off the cliff as Harry watches.
Lou Raskin, the police chief, leads the team of officers as they arrive. He wonders whether Harry has been drinking or using drugs since they can't find a body. Meg, the grandmother of Percy Muldoon, arrives. She reacts angrily and crudely before denying Harry's assertions. Colin, Percy's uncle, is also present and is not pleased. In an accusatory tone, he asks Harry how he knows Percy and why he followed her. Meg keeps criticizing Harry while Raskin shamefully tries to calm the Muldoon family.
Harry tells Sonya about what happened the previous night in morning. He is unsure of himself and wonders if his eyes have tricked him. Raskin answers the phone when he calls and tells him that Percy was last seen driving her automobile 30 minutes after Harry saw her fall or leap. Harry returns to the location, stands in the identical spot where Percy had been, and then behaves just as she had by looking over his shoulder. This directs him to a small dirt patch with a strange collection of items, including a crucifix and a short piece of rope tied in an unusual pattern.
The chief receives the materials from him, but he has no idea what to do with them at all. Harry suggests starting with running fingerprints. Raskin has checked Harry's past and is very pleased with his accomplishments. Harry departs with some reluctance because it is obvious that he would prefer to work the case then see the tourist attractions Raskin has suggested.
Ambrose follows his instincts and visits Muldoon Fish Co., where he locates Percy's father. Meg shows up and starts grilling him about his daughter's antics. She dismisses Harry without delay and then engages in conversation with a man outside. The owner of a competing fishing enterprise and one-half of a married Asian pair, Mike Lam, is the focus of Meg's f-bombs, a nearby fisherman tells Harry. The fisherman also claims to have seen Percy at The Knot, a nearby bar, before she vanished. Percy is "just like her grandma, a boss," the bartender there informs Harry as he enters the establishment.
Ambrose learns from talking to several of the customers that Percy was in a good mood that evening and even joined a friend on stage to sing a song. In a quick flashback, which also shows Percy leaving the bathroom with blood trickling from her skull, this is related. When her buddy asks her about the wound, she denies it and says she cut herself on the paper towel dispenser.
Let's fast-forward to today at 2:27 a.m. Due to his insomnia, Harry goes outside to fix a malfunctioning gas grill. He hears a strange string of shouts and moans in the distance while he plays handyman. He meets Raskin the following morning, who is concerned about "screwing up." He has discovered Percy's automobile with the key still in the ignition and is reluctant to offend the reputedly influential Muldoon family. A nearby occupant in an RV is questioned by Harry and Lou. The prospective witness, who has a neck tattoo and a lot of attitudes, doesn't give any assistance before shutting his door in their faces.
RELATED: 
Harry and Sonya talk about the advantages and disadvantages of Harry helping with the case over breakfast. He's obviously already invested a lot, and Sonya is cautiously encouraging. The call from Raskin ends the meal. The chief and Ambrose go to the Muldoon home because Meg seems to be quite eager to have Harry assist in finding her grandchild right now. After three days, she has changed her mind because Percy is still missing, Lou "doesn't know his ass from his elbow," and using Harry's seasoned investigative abilities is beginning to make sense.
Meg provides some background information about Percy after apologizing and begging for his assistance. It comes out that her mother left her when she was very young, so Meg raised her as her own. Meg believes Percy was keeping something from her despite how close they were. She was allegedly reading a book called The Lunar Goddess, staying up late, and gathering "strange" items, one of which resembles the rope that Harry discovered at the scene.
This triggers a memory of Meg and Percy sharing a beautiful moment. Meg throws some fishing line, but Percy ties a knot in it to "preserve the moment" and give it meaning. nice, new Meg grants Harry access to the book and extends an invitation for a home-cooked lunch.
Harry returns to Pier 2, where he first met Percy. A nearby surveillance camera and a pack of what seems to be nicotine gum are both found by the man. He locates the video, which contains a spooky segment showing Percy assuming a kneeling or praying posture in front of a hooded person. She retreats cautiously from the unknown person out of fear before running away. The same person that Harry believes "had a grasp on her" was present at the bluff the night she vanished.
Harry is tinkering with the gas grill during yet another restless night while once more hearing strange noises coming from the woods. This time, he investigates the chant-like noises and finds a group of naked ladies engaged in a rite beneath the stars. Ambrose keeps an eye on them from a distance until one of them suddenly casts his way. She looks a lot like Meg, but it's hard to tell in the dark because she has her hair down and is, you know, making worshipping gestures to the stars.
Harry comes to the cottage exhausted and upset. "Whatever you believe it is, you're probably incorrect," a female voice replies as she reclines on the couch next to the man. Yes, Harry says, "I know." The voice adds, "I might be anywhere." The camera switches to Percy, who is seated next to Harry, and it appears that his frail mind is playing games with him. She ends their eerie conversation with the request to "please… locate me."