Netflix is producing a live-action version of Yoshihiro Togashi's popular Shonen Jump comic Yu Yu Hakusho. This initiative was first introduced by the streamer in December 2020. It won't be the first time that the streaming behemoth adapts a manga or anime series for the big screen. The live-action Death Note movie directed by Adam Wingard debuted on Netflix back in 2017. One Piece will also have a live-action version on Netflix.
Yu Yu Hakusho has previously been adapted into a stage play in Japan, so this is not the first time the series is being given the live-action treatment. Currently, fans are eagerly awaiting Netflix's adaptation of one of the best shonen anime series ever produced. A young offender named Yusuke is featured in the first chapter of Yu Yu Hakusho, which made its debut in Shonen Jump in 1990.
Yusuke performs a heroic deed by saving a child from a speeding car, and after he passes away, his ghost is given the opportunity to rejoin the living if he successfully completes various trials. However, that is just the beginning. The Dark Tournament Saga, in which Yusuke and his team of Hiei, Kurama, Kuwabara, and Genkai face off against supernatural teams, is a highlight of the series. With 175 published chapters, the series came to an end in 1994. The 1992 Japanese release of the anime adaption has 112 episodes and received an 8.4 on IMDb.
Fans are now eagerly awaiting Netflix's live-action rendition of the legendary shonen series. Yu Yu Hakusho will be adapted for live-action television by Netflix in December 2021. Yu Yu Hakusho is being produced by Akira Morii at Robot Communications, the Japanese production company that worked on the live-action Assassination Classroom and Parasyte movies in contrast to the live-action Death Note movie, which was an American production.
Who Are the Cast Members of Yu Yu Hakusho?
The fact that Takumi Kitamura will play Yusuke Urameshi, the main character of Yu Yu Hakusho, is already widely known. In the live-action Tokyo Revengers series, Kitamura now portrays the title character, Hanagaki Takemichi, from the well-known anime and manga series.
Ryusei Yokohoma, Go Ayano, Jun Shison, and Kanata Hongo have reportedly been cast, according to a Japanese source. According to rumors, Kanata Hongo will play Hiel, and Jun Shison has been cast as Kurama. The rumored casting has also been talked about by numerous fan accounts and other Twitter accounts. IGN announced Takumi Kitamura's addition to the cast on July 16th, 2022, along with a first-look image.
Read more: The Dropout Season 2: Where to Watch This Fantastic Series?
What's the Plot of Netflix's First Yu Yu Hakusho?
At the time that this article was written, the streaming giant had not disclosed any official plot details about its upcoming live-action adaptation of Yu Yu Hakusho. However, we anticipate that the beginning will demonstrate how Yusuke Urameshi becomes the Underworld Detective as a result of his heroic sacrifice. It is most likely that it will reveal how Yusuke first meets Kuwabara, Hiei, and Kurama, and it will focus on their exploits in Labyrinth Castle.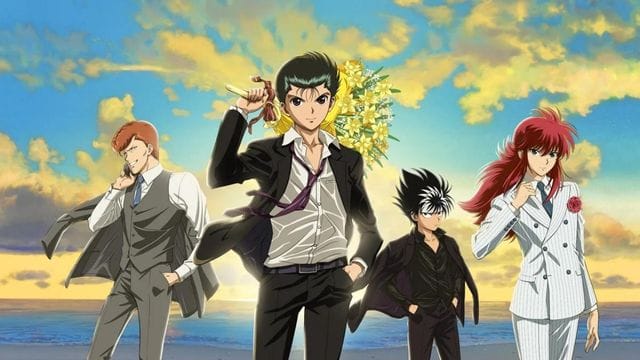 I believe that it is essential for the live-action adaptation to portray everything that occurs prior to the Dark Tournament Saga first, despite the fact that the Dark Tournament Saga is the most important part of the anime and manga series. It is anticipated that the first season will chronicle the beginning of Yusuke's voyage in the Spirit World as well as his early exploits with his squad of fighters.
Recommended: Knights and Magic Season 2: Is there gonna be a season 2
This will be covered in the first season. It is imperative that the live-action version of Yu Yu Hakusho receives a sufficient number of views in order for the streaming giant to decide to extend the program for a second season. This is because Netflix decided to end its live-action adaptation of Cowboy Bebop following the show's first season. You may expect an update from us as soon as Netflix publishes an official synopsis and provides additional information regarding the plot of the live-action Yu Yu Hakusho adaptation.
Yu Yu Hakusho Live-action Netflix Release Date
Netflix will offer the live-action Yu Yu Hakusho adaptation for streaming in all countries, although the company hasn't yet specified a specific date. However, Netflix Geeked announced on November 9, 2021, when viewers can anticipate the live-action film's debut.
Is Netflix Remaking Yu Yu Hakusho?
Fans can now get a first peek at the live-action remake of YuYu Hakusho on Netflix. Reports indicate that the international premiere of the live-action adaptation that Netflix is producing will take place in December 2023.
Netflix has not only confirmed the release dates for the shows, but also the primary cast members. Because the character reveals posters were released, fans are already buzzing with excitement.
Also read: Chicago Med Season 8 Release Date: Why Did Netflix Remove Season 8?
Yu Yu Hakusho Live-action Netflix Trailer: is There a Teaser Trailer Out Already?
Netflix's live-action adaptation of Yu-Yu Hakusho has a trailer available for viewing below.
Frequently Asked Question
Is Yu Yu Hakusho Coming Back?
It has already been established in advance that the first season of Yu Yu Hakusho would not be available on Netflix until the month of December 2023. The popular live-action version of Alice in Borderland is also being produced by Kazutaka Sakamoto, who is also the producer of Yu Yu Hakusho. However, the live-action adaptation of Alice in Borderland won't be available on Netflix until December 2022.
Did Yu Yu Hakusho Ever End?
The manga has a total of 175 chapters that are spread across 19 volumes, with the first volume being published on April 10, 1991, and the final volume being published on December 12, 1994.
Where Can I Watch Yu Yu Hakusho 2022?
Netflix is developing a live-action adaptation of Yoshihiro Togashi's seminal manga series Yu Yu Hakusho, which originally appeared in Shonen Jump. This initiative was initially revealed by the streamer in December of the year 2020.