The news and updates for HBO Max's Our Flag Mean Death have been eagerly anticipated by fans. The series now appears to be getting ready to set sail once more. The historical pirate comedy's much-anticipated return has officially started filming for its second season, according to the show's star, Samba Schutte. Roach, the cook on The Revenge, is portrayed by actor Schutte.
On his own Twitter feed, he shared a picture of a set chair bearing his character's name on the back. The text, which read "Day 1 ahoy," appeared with the photograph in black and white to indicate that filming had started. This occurs a month after the show's creator and writer, David Jenkins, teased the upcoming second season by posting a screenshot of the episode's script on his personal Twitter account.
Similar to that piece of information, Schutte's photograph doesn't reveal much about what viewers may anticipate from the resumption of the series, but it is encouraging to know that production has begun. Our Flag Means Death is a comedy series set in the Golden Age of Piracy that is partially based on the life of the Gentleman Pirate Stede Bonnet (Rhys Darby).
Bonnet and his unlikely crew aboard his ship The Revenge embark on numerous adventures after leaving his comfortable and simple life in Barbados to prove himself as a pirate. Along the way, they encounter numerous well-known historical figures, including Edward Teach, also known as Blackbeard, who is portrayed by Taika Waititi.
Our Flag Means Death Season 2 Plot Speculation
Our Flag Means Death's first season left us with a lot of unresolved plotlines and open-ended questions that need to be addressed. Stede and Blackbeard nearly evaded the king's law after a number of adventures. Despite admitting their love for one another, Blackbeard and Stede were split up for various terrible reasons. Blackbeard, who thought he had been abandoned, returned to his dark pirate ways and became a terrifying tyrant.
Blackbeard marooned half of Stede's crew before leaving on the seven seas with a shattered heart at the end of the season. Stede was back "home" at the time with his wife, who had already found a lover and wasn't too happy to see him back. There will undoubtedly be a reunion between Blackbeard and Stede during season 2 of Our Flag Means Death. Jenkins told Decider, "The romance is the show.
As a result, we arrive at the point of the breakup. What transpires when these two people split up because one has realized he is in love and the other is wounded in a way he has never been hurt before? What effect does that have on each of them in a world of action and pirates where they are striving to reunite? Additionally, we must witness how Stede truly saves his crew and how they are able to acquire a new spacecraft while evading all of their adversaries. Despite the absence of definite plotlines for season 2, it appears like Blackbeard and Stede's love story will once again be the series' main focus. We can't wait to watch how their romance develops.
Read more: Yellowjackets Season 2: Is This Series Based on a True Story?
Our Flag Means Death Season 2 Cast
Fortunately, it appears like the majority of the core cast will return for Our Flag Means Death season 2. As a result, Taika Waititi and Rhys Darby will reprise their roles as Stede Bonnet and Edward Teach, a.k.a. Blackbeard, respectively. Additionally, we can anticipate seeing the regular cast members, including Samson Kayo as the dependable Oluwande Boodhari and Ewen Bremner as Nathaniel Buttons.
Recommended: Euphoria Season 3: What Can We Expect From Season 3 of This Show?
Con O'Neill, who previously played Izzy and whispered in Blackbeard's ear, will return as the adversary, and we wager that Leslie Jones will return as Spanish Jackie, the most formidable pirate commander thanks to her 19 husbands.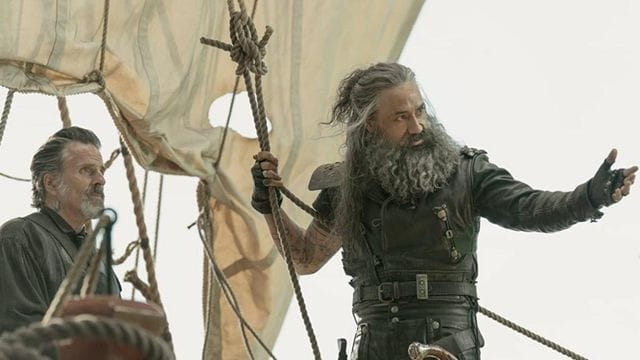 The following is the anticipated Our Flag Means Death season 2 cast:
Stede Bonnet, played by Rhys Darby
As Blackbeard, Taika Waititi
as Jim, Vico Ortiz
Izzy is Con O' Neil.
Oluwande, Samson Kayo
As Nathaniel, Ewen Bremner
Frenchie by Joel Fry
Kristian Nairn as We John Feeney
Nat Faxon as The Swede
Leslie Jones as Spanish Jackie
Nathan Ford as Lucius Spriggs
 Our Flag Means Death Season 2 Release Date
According to DroidJournal, Our Flag Means Death's first season premiered in March 2022, and in June of that same year, it received a second season renewal. Given that, Season 2 ought to air around 2023. Like the first season, the upcoming one may have ten episodes.
Production companies for the show are Piki Films and Human Animals, and Warner Bros. Discovery Global Streaming & Interactive Entertainment is in charge of distribution.
Also read: Married at First Sight Season 14 Reviews: Who Got Divorced in Season 14 of This Series?
Our Flag Means Death Season 2 Trailer
For Season 2 of Our Flag Means Death, no trailer has been made available by the creators. In the interim, you may view the Season 1 trailer down below:
Is Our Flag Means Death based on real events?
The historical account of Stede Bonnet, who temporarily served aboard Blackbeard's ship during the Golden Age of Piracy, served as the basis for the film Our Flag Means Death. However, the show's creator, David Jenkins, takes inspiration from historical events without paying a great deal of attention to whether or not they are historically accurate, just like Shakespeare did in many of his historical plays.
Frequently Asked Question
What Happened to Blackbeard's Ship in Our Flag Means Death?
When the ship is ambushed by another pirate gang, Stede has already been stabbed and is on the verge of being hanged. Stede opens his eyes just as Blackbeard is standing on him, having been cut down just in time to prevent him from suffocating to death. During Stede's time spent recuperating from his wounds, Blackbeard assumes command of the Revenge.
Is Our Flag Means Death Canceled?
Fans of the show Our Flag Means Death initiated a letter-writing campaign to HBO Max expressing what they love about the show in the hopes of increasing the likelihood of the show being renewed for a second season after they became aware that the show was in danger of being canceled. On June 1, 2022, thankfully, Our Flag Means Death was finally given the green light to return for a second season by HBO Max.
What Happened to Jim at the End of Our Flag Means Death?
In the last episode of the season, Blackbeard asks Jim if he and Frenchie want to be a part of the new crew he's putting together. Jim responds that they thought they were already a part of Blackbeard's crew. Blackbeard then asks Jim if he and Frenchie want to be a part of the new crew he's putting together. After that, Jim is assaulted and falls to the deck below, where he finds himself trapped inside a room that cannot be entered.