RCB has been winning the hearts of cricket fans for over years. The trend that was started by Kannada fans of 'Ee sala cup name has become an emotion now. For 13 years Royal Challengers has been playing IPL several times it has played successful shots to the trophy but couldn't reach it and remained runner-ups.
RCB is under the direction of team India's Captain Virat Kohli, who is the best in all formats. Ab De Villiers and Glenn Maxwell well supported him. Although this trio is the best one, RCB playing 11 is just not all about them, there are more versatile players present in the team.
Auction outcome for RCB:
RCB has invested with a wide strategy in the players like Glenn Maxwell, Kyle Jameison, and Daniel Christian. As these three are not much reliable, they also capitalized on Finn Allen. Moving on to Indian players, KS Bharath, Mohd. Azharudden, Rajat Pawar, Sachin Baby and Suyash Prabhudesai are part of the team.
Strongest playing XI for RCB prediction for IPL 2021:
As opening batsman, Glenn Maxwell will enter the pitch. The top 4 players that will enter the pitch one after another are Devdutt Padikkal, Glenn Maxwell, Virat Kohli, and AB de Villiers. The 5th person entering the pitch will be from youngsters as Mohd. Azharudeen, Rajat Patidar, Sachin Baby, Shahbaz Ahmed, and Suyash Prabhu Desai. But we assume that Mohd. Azharudeen will enter 5th as he is a dynamic player and can play well in the middle order.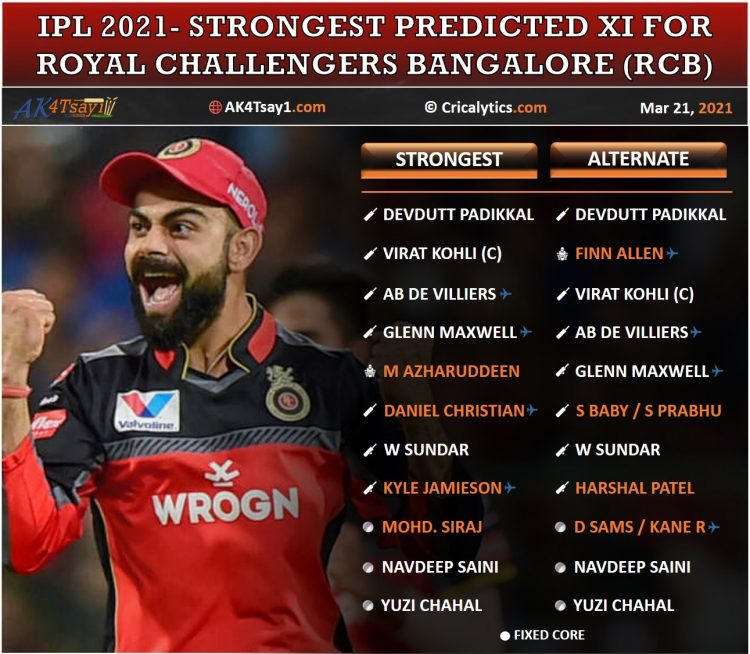 Also, the fourth overseas player should be Daniel Christian, Daniel Sams, or Kane Richardson. Both Daniel Sams and Kane Richardson are outstanding in context to bowling, and Daniel is an attacking batsman. Christian too can provide 2-3 good overs to the match. However, there is a need for a finishing batsman in the RCB team.
Bowling:
Yuzendra Chahal and Mohd. Siraj is always on the list of bowlers automatically. Chahal will show his spinning skills while Siraj will turn heads of spinners. Also, Kyle Jamieson will show off his bowling skills in the match. Also, Adam Zampa, Kane Richardson, and Navdeep ain't will complete the remaining overs and showcase their talent.
The strongest XI for RCB for IPL 2021:
Glenn Maxwell, Devdutt Padikkal, Virat Kohli, AB de Villiers, Washington Sundar, Daniel Christian, Harshal Patel, Kyle Jamieson, Yuzendra Chahal, Mohammed Siraj, Kane Richardson or Adam Zampa or Navdeep Saini.
In the last season of IPL, RCB playing 11 was near to winning the trophy. If this wise strategy works out for them, they will surely have the trophy in their hand. But they must have a backup plan, as this one can backfire.
Stay connected to get the fastest updates on the upcoming IPL season.